BOATING Magazine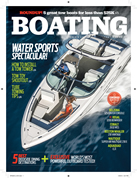 When they're not on their boats, ABA members love to read about boating. So we have included a one year subscription to Boating magazine as part of your ABA membership, a $17.97 value! (Boating magazine can only be delivered to U.S. addresses)
Boating is your source for unbiased boat reviews, gear reviews, and travel features that take you to the best boating spots around. Plus every issue has trailering tips and great advice on how to maintain your boat for peak performance and enjoyment.
An annual subscription is included as a membership benefit for those members who pay to join ABA. You receive the latest issue within 8-10 weeks of when you join ABA.
If you join ABA as a complimentary member, all of the ABA membership benefits are available to you except for the subscription to Boating and the waterproof pouch. However, you can upgrade your complimentary membership to a paid membership for $12 where you'll automatically receive a one year subscription to Boating and the handy waterproof pouch. That's a combined savings of $42.92! Click here to upgrade your membership.
So, for as little as $12 a year, you can join ABA and receive all of the ABA Member Benefits designed for boaters and boating enthusiasts like you, including a one year subscription to Boating magazine and a waterproof pouch. Every time you use your member benefits, you'll not only benefit personally, you'll help support ABA's mission to promote boating safety, affordability, growth, and a clean environment. Ready to enjoy all of the benefits of an ABA membership? Join ABA today!
Already a member?

Click here to upgrade membership

Not a
member?

Click here
to join
ABA