Electrical System Principles
Boaters are placing increasing demands on their boat's electrical systems. Luckily, there are lots of products available.
You can now select from a vastly expanded range of quality gear including: high output alternators, smart regulators, gel batteries, solar panels, quality wire, inverters, monitoring devices, etc.
How do you figure out what components you need to operate your boat effectively? There are six categories of electrical components:
1. DC Loads which use the stored electricity.
2. Batteries which store electricity.
3. Wire and Distribution Panels that connect the system together and protect it from damage.
4. Chargers which charge the batteries.
5. Monitors which display the status of the system.
6. Inverters and GenSets which produce AC current.
Your "ideal" system may or may not require all of these components. The critical thing is that the total system must be designed to meet your daily electrical needs with sufficient battery capacity and charging ability.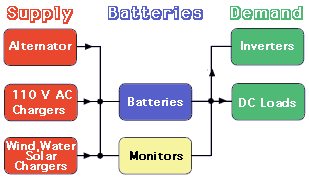 Recommendation for a safe a successful voyage.
1. Boats should have two battery banks: one dedicated to starting the engine, the other reserved for house loads.
2. House loads and engine loads should be run through separate battery switches; not a single 1-2-BOTH switch.
3. Charge batteries in parallel using Battery Combiners; discharge in isolation .
4. Base your house battery size on 3-4 times your average daily electrical consumption.
5. Create electrical paths with as few serial conductors as possible.
6. Ground your alternator using a stout wire in addition to the engine block.
7. Avoid the use of battery isolators, single purpose battery banks (beside the engine battery), and ferroresonant chargers.
8. Use marine grade wire in ABYC recommended wire sizes.
9. Alternator charge current should be available at low RPMs, especially on sailboats and boats which troll.
10. Make sure your engine has enough "belt" to drive the alternator you select.
11. Charge intelligently, using smart multi-step shore chargers and regulators.
12. Do not leave batteries discharged, or charge them at a high voltage, for extended periods.
13. Identical batteries connected in parallel which do not self-discharge are probably fine.
14. Use flooded batteries, or use gel batteries, but don't use both types on the same boat.
15. Provide a means to cross-connect battery banks in an emergency.
16. Equalize flooded batteries every 10-20 cycles.
17. Replace batteries when their capacity drops below half of their stated capacity.
18. Protect positive wires with fuses or circuit breakers.
19. Alternators should be 30% as large as flooded batteries, and 50% as 1 large as gel batteries.
20. Battery chargers should have an output of 10% of your battery capacity, plus the average DC loads when at dockside.
21. Inverters need to be run from a house bank that has at least 20% as many amp-hours as the inverter has watts.
The information contained herein is provided by Bob Pone. Neither ABA nor Bob Pone assume any responsibility or liability for events that occur due to actions you or others on your behalf take based on the information given. You are proceeding at your own risk.